YOU ARE HERE:
Embryo Evaluation Documentation System - Stand alone Color Camera with Monitor
Embryo Evaluation Documentation System - Stand alone Color Camera with Monitor
High-definition Color Camera Head LBS-Fi21 - Standalone Camera Control Unit LBS-L31
LBS is pleased to announce the release of new digital imaging products for microscopy for embryo evaluation. These are the LBS-Fi21 high-definition color camera head and the LBS-L3 standalone control unit.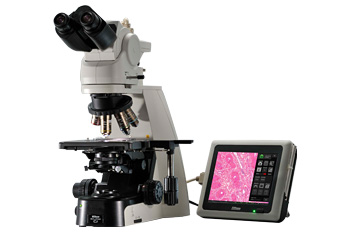 Standalone Control Unit LBS-L31 (right)
& Biological Microscope ECLIPSE Ci-L (left)
Product Information
Product Name
Digital Camera System for Embryo Evaluation Microscopy Digital Sight Series
High-definition Color Camera Head LBS-Fi21
Standalone Camera Control Unit LBS-L31
Development Overview
LBS now released the digital camera "Digital Sight series" dedicated for microscopy for embryo evaluation and documentation system. The Digital Sight series incorporates many features unique to our imaging system. The camera head and controller unit are separate so that users can choose a combination from each lineup depending on their purpose of use. Since its release, the Digital Sight series has been used widely at universities and research institutes in biological and medical fields as well as for R&D, quality assurance and inspection in industrial applications.
Digital cameras for microscopy require high color reproducibility to display images as seen through the microscope and they must be easy to use. Recently it has become even more important to be able to capture high-quality images by simple operations with a high degree of reliability. LBS developed new products to meet these requirements.
Features
[High-definition color camera head LBS-Fi21]
Greatly improved video performance, with high-definition 5M pixel camera
The newly developed CCD control circuit significantly increases the frame rate from the current 12 fps to 21 fps (Display mode: 1280 x 960 pixels). You can focus and comfortably search for a region to observe in your sample without any stress.
[Standalone control unit LBS-L31]
This control unit concept "PC-less, standalone" has been well accepted since its introduction, providing ease of use with space-saving design. Anyone can capture microscopy images easily by clicking icons displayed on the monitor.
Touch panel intuitive operation

The first LCD touch panel adopted for a digital camera for microscopy. Icons for operation are intuitive — you can start using the camera without reading an operational manual.

High-quality images

High color reproducibility and high-definition images are achieved by improving the image processing function

Multifunctional controller

The LBS-L31 can also be used to control the LBS E1 and Ci-E biological research microscopes. It plays three roles: controls the camera, displays images, controls the microscope; and it saves you space.
Specifications
CCD
2/3 inch color CCD
Total number of pixels: 5.24 megapixels (effective 5.07 megapixels)
Live display mode
21 fps (1280 x 960 pixel), 37 fps (1280 x 480 pixel)
Recordable pixels
2560 x 1920 pixel, 1280 x 960 pixel, 640 x 480 pixel
Lens mount
C-mount
Built-in monitor
External image output
8.4 inch TFT LCD display with touch panel function
DVI-I (Digital: Conforms to DVI 1.0/Analog: 0.7Vpp (75Ω))
Storage format
BMP, JPEG, TIF, etc.
Tool functions
Measurement (distance between two points/point-to-line/between circle, angle, circle, diameter, area, pitch), Count marker, Text, Pen (straight line, curve line), Scale, Crosshairs, Grid, XY Scale, XY measurement
DISCLAIMER
Embryo Evaluation and Documentation System PRODUCTS
Product
Catalog
Size
Price
Qty